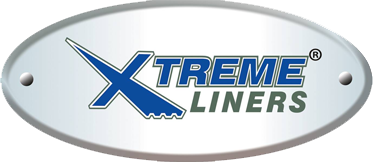 Our bedliners are a high pressure system sprayed to custom coat all makes and models of pickup truck boxes.
We use a very durable polyurea product that thoroughly coats the bed, sides, and choice of under or over the rails. The product is robust but flexible to prevent cracking or peeling. We can also do custom jobs with the same material including rockers, flatbeds, and many other applications. The very best in protection and appearance. Whether you use your truck for work or play the best way to protect your investment is with a great looking sprayed-in bed liner. No other liner looks this good and works so hard! If you are looking for a high quality spray on truck bed liner, we apply a long lasting, durable bed liner that will protect your truck bed for years to come.
Quality:
Using only the highest quality, polyurea/polyurethane hybrid materials, the chemical formulation combines the right mix of toughness, strength, flexibility, abrasion and cut resistance even in the cold of the Northland adding up to the best, most attractive protection available for your valued truck.
Reduced Cargo Slippage:
Our bed liners come with a great looking, fine textured finish that helps reduce all kinds of cargo from sliding around the truck bed. And don't forget safety! Our bed liners provide safe, sure-footed traction when stepping into the bed, greatly reducing slip and fall injuries at home and on the job site. The application process only takes a couple hours to complete allowing our professional applicators to get your truck in and out the same day. Our spray-in bed liners are dry in a matter of seconds.
Prices:
Prices start at $450.00 depending on size of the liner. Please contact us for a custom quote.
Call (218) 722-8713 to make your appointment today or email us at: absauto8713@gmail.com.